---
Apply makeup in your car with ease!
How often have been dissatisfied with the fact that your car does not provide you with the necessary conditions to take care of your vanity? Very often, right?
Our car visor makeup mirror will help you take care of your beauty with ease! You can no longer count on the weak sun visor mirror light. No more complaining and disappointments. It has 21 built-in LED lights, which produce soft and natural lighting. They go all the way around the car interior vanity mirror so you can see just as well when applying your lipstick, mascara or putting drops in your eyes. The reflection is nice, clear, and it has no distortion.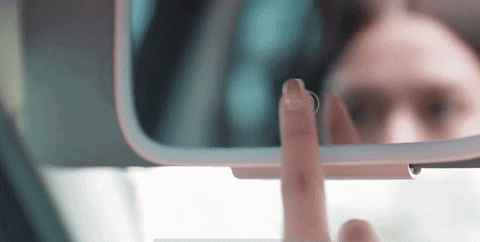 With our mirror, applying makeup in your car can be easy and fun. Just clip it on the sun visor. According to the day, night, weather, and environmental conditions, its light brightness can be adjusted steplessly. This feature allows you to apply makeup as effectively as possible, without getting blinded by the lights. Just press and hold the turn on button to be given the perfect lightning.
This futuristic product is a great, inexpensive way to get vanity light in your visors, that can meet your needs. Why should you put your beauty in question, when it is no longer necessary?
GET YOUR SUN VISOR VANITY MIRROR BY CLICKING "ADD TO CART".
All these features make this well-designed vanity mirror extraordinary:
Quality design and scratch-resistant;


Stepless brightness adjustment design;

Rechargeable large capacity battery;

Suitable for all vehicles;

21 built-in LED lights;
Package includes:
Notice 1: The maximum width of the sun visor, that the vanity mirror can fit on must be 6.65 inches, please check whether it is suitable for your car before ordering.
Notice 2: Considering manual measurements, there might be a tolerance of 0.04-0.12inches.
FAQ:
Q: Does it automatically turns itself off?
A: No, after you are done applying your makeup, you have to manually turn it off.
Q: To what sun visors can it be clipped?
A: It works with all kinds of visors. The maximum width of the visor must not exceed 6,65 inches. The gripping mechanism stretches to a maximum of 6,7 inches.
Q: Does the power cord need to be plugged non-stop into the mirror, in order for it to work?
A: No, it does not, because the mirror has a built-in 400mAh battery, which can be charged with the USB cable that comes with the mirror.
Q: Is it waterproof?
A: No. Please, do not try to check the water resistance of the mirror.
This site is not a part of the Facebook website or Facebook Inc. Additionally, This site is NOT endorsed by Facebook in any way. FACEBOOK is a trademark of FACEBOOK, Inc.
Share blog posts, products, or promotions with your customers. Use this text to describe products, share details on availability and style, or as a space to display recent reviews or FAQs.