---
This is an on-the-go best cordless vacuum for car detailing, that can fit in the glove box, door pockets or cup holders.
Have you ever been in a difficulty and did not want to get the big vacuum out or go to the local self-service vacuum?
We introduce to you our best car detailing vacuum. Because it is small and compact, it is very easy to store. This mini dustbuster will surprise you with the power it holds in its small body. No one can argue that it is convenient to have both a vacuum and a blower at the same time. It is so satisfying to see crumbs and dust coming out of cracks, in which they have been stuck for years!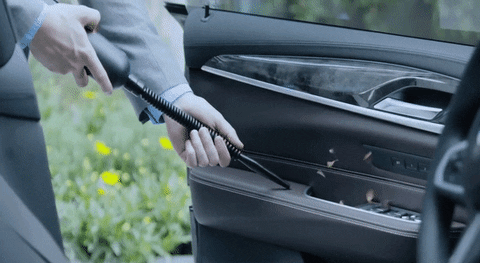 This is a driver's best friend, designed for quick spot cleaning, especially for the areas, that are hard to reach. It is cordless and equipped with the needed accessories, so you don't leave some part of your car uncleaned. You get 18 minutes of run time out of it. And then you can recharge it with a Type-C USB cable in your car! And the HEPA filter in it prevents secondary pollutions. The HEPA filter is replaceable and you can buy it from our store.
Perfect for families, whose kids love to leave little gifts in the door pockets (sand, crackers, grape seeds, and debris). Matter of fact, because our product is kid-friendly, we can guarantee that your kids will start using our Mini Self Car Vacuum by themselves.  Many fast-food restaurants still do not allow "dine-in" services, but this vacuum will not mind if you have lunch in you car!
Cleanliness of the car is not less important than cleanliness of the home, right?
GET YOUR MINI SELF CAR VACUUM BY CLICKING "ADD TO CART"
All these features make this well-designed Mini Self Car Vacuum extraordinary:
Portable & Cordless;
Blower function;

Lithium-ion battery - 6000mAh;

Three nozzles;

18 minutes of battery life;
Package includes:
Notice 1: Mini Self Car Vacuum is intended to be used from light to medium cleanups. For massive cleanups check the three times more powerful  Self Car Vacuum 15000Pa.
Notice 2: The dust cup is washable. Do not turn on the vacuum after removing the dust cup, otherwise, it may vacuum foreign objects and cause damage to the blades.
Notice 3: HEPA filter is washable and replaceable. Please dry it thoroughly before use. However, with continuous use, the filter fibers will get stretched or torn, which will create gaps in the filter, large enough for particles to pass through. In that case, you will be able to order a HEPA filter for your vacuum from here.
FAQ:

Q: Can it suck up liquids such as coffe or water or is it bad for the machine?
A: No, this mini self car vacuum does not have this function. The absorption of liquids will lead to its breakage.
Q:
How long does the battery last?
A:
 T
he vacuum cleaner can withstand between 15-20 minutes of constant cleaning.
Q:
Do I need to change the filter?
A:
The filter can be washed and cleaned, but this reduces its main function, as it stretches over time and small cracks appear. We recommend replacing it, as soon as you feel that it is not performing its basic functions. Click - HEPA FILTER.
This site is not a part of the Facebook website or Facebook Inc. Additionally, This site is NOT endorsed by Facebook in any way. FACEBOOK is a trademark of FACEBOOK, Inc.
Share blog posts, products, or promotions with your customers. Use this text to describe products, share details on availability and style, or as a space to display recent reviews or FAQs.